Og's Adventures - An Animated Adventure Series
Where imagination is the Final Frontier!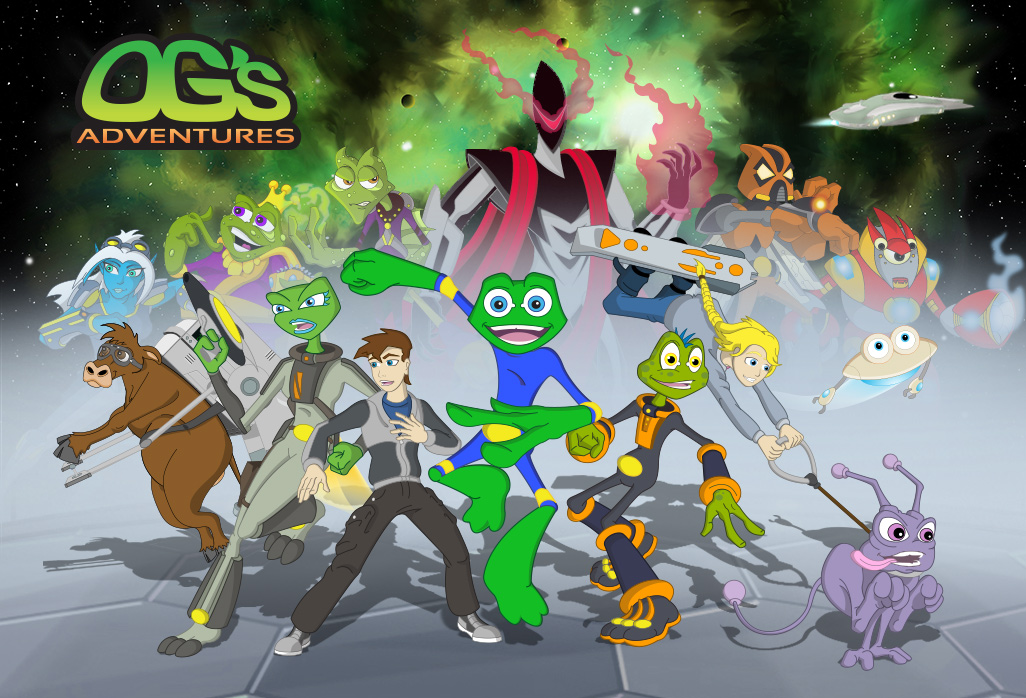 Deep Sky Studios has been developing an exciting new animated series called OG'S ADVENTURES! Over the last year we have been finalizing the show's production bible, making test shorts, illustrating character and background designs, writing scripts and creating online games. We even have a comic book series!
About the Series
OG'S ADVENTURES is a hilarious 22-minute animated adventure series aimed at boys and girls ages 8 to 12, rendered beautifully with a blend of 2D and 3D creating a fun and visually rich universe.
Og is a young FROOGOID (pronounced Fruug-oid) from the planet FROOGE and works as a cadet in the appropriately named Frooge Galactic Corps. Along with a crew consisting of a fearless spaceship captain, two Earth kids, an excitable little robot, a surfer-dude and a talking cow, they are on a top secret, super-special mission on behalf of their planet's supreme ruler, THE SUPERIOR MORON. What is this top secret, super-special mission, you wonder? To travel the remote corners of the universe on an intergalactic scavenger hunt, hunting for whatever Superior Moron wants at any given moment.

Og and the crew of the Colony are always at their majesty's bidding, no matter how ridiculous it might be. From seemingly impossible tasks such as bringing home a few portable suns from the Solarys system to simple stuff like picking up his dry cleaning, It's up to Og and the team to fulfill any and all whims of The Superior Moron. The sooner the better.
But they are always getting sidetracked by crazy detours leading to mysterious worlds and alternate universes, encountering bizarre and sometimes treacherous beings. On some trips they might run into Space Pirates determined to hijack Superior Moron's booty. Or they might be sucked in by a traveling WORM HOLE that transports the Colony into an alternate universe. Comical hijinks and dangerous adventure is always on the event horizon for Og and crew.

Studio Production
Deep Sky Studios is centrally located in Portland, Oregon's Pearl district. All of our animated series and shorts are produced in-house. Our skilled team of directors, designers and animators produce everything from conceptual art, character design, background matte paintings, storyboarding, 3D modeling, 3D animation, Toon Boom Harmony, Editing, sound design and compositing. Deep Sky has been producing animated shorts, music videos and 22-minute episodes for years. We have a proven track record of producing quality animation with a quick turn-around on affordable budgets.



Jared Hobbs, the series creator has over 10 years experience writing, directing, supervising and producing live TV shows, children, sports and reality shows, along with commercials, infomercials and music videos. Steven Darancette is an Emmy Nominated writer and producer with ten years experience in TV Animation and Live-action writing. 




Series Distribution
Currently we are working on a trailer for the Og's Adventures series. 

www.ogsadventures.com